[uptolike]
A heat insulation material is a material that facilitates transmission of heat energy.
Today there are many synonyms to liquid insulation: thermal insulation paint, liquid thermal ceramic coating, liquid heat insulation, liquid thermal insulating coating, extra thin insulation, thin film coating, etc.
In his articles "Who is Wearing a Coat" in the newspaper "Stroitelnyi Expert" ("Construction Expert") No 11-12 and "Who and Why Does Not Want Liquid Heat Insulation Materials to Conquer the Market?" in "Proektirovanie I Stroitelstvo v Sibiri" ("Engineering and Construction in Siberia") No 4(58), 2010 Aleksandr Shevtsov published a short overview of the history of liquid insulation coatings:
"The modern history of use of the aforementioned insulation coatings is not a secret. In the USSR this product was manufactured in 1975 at RI Latex in the city of Volzhsky, Volgograd Oblast. The properties of perlite (ceramic spheres with the air pressure of 0.13 Pa) are described in the reference book "Fizicheskiye Velichiny" (Physical Quantities) edited by I.S. Grigoryev, Y.Z. Meylikhov, ENERGOATOMIZDAT, 1991. The heat conductivity coefficient is 0.00083 W/mK»
Thus, the use of liquid insulation materials is not an innovation per se, although they cannot be classified as "traditional" insulation materials. It would not be correct to compare liquid insulation with "traditional" insulation using the same criteria.
"Traditional" Heat Insulation Materials
The "traditional" materials are the ones whose properties have been long ago thoroughly studied using the known criteria and traditional research methods. Besides that, the "traditional" materials are the ones whose practice of use is widely accepted according to norms and standards. Thus, an easy and habitual way of weathering the roofing is using glass wool, while mineral wool is commonly used for insulation of pipelines, and geofoam materials – for weatherization and insulation of building facades.
The Main "Traditional" Insulation Materials in Russia
Mineral wool and mineral wool products are widely used in the territory of Russia, Germany and Europe. Their main advantage is chemical resistance, and their disadvantages are flammability, toxicity (which makes them unsuitable for indoors use), low moisture resistance.
Urethane plastic foam has low heat conductivity but is not environmentally friendly, and as a result using it for the insulation of residential buildings is not advisable. Besides, it has low resistance to ultraviolet radiation.
Glass fiber is, like the previously mentioned materials, a "traditional" but environmentally unfriendly material; besides, it is short-lived because of its increased brittleness.
Geofoam (polystyrene) is chemically stable, however it is a flammable material not resistant to ultraviolet radiation and temperature gradients. Besides, it is a heavy material, which is why it places extra load on construction structures.
Use of Heat Insulation Materials in Germany and Europe in 2011*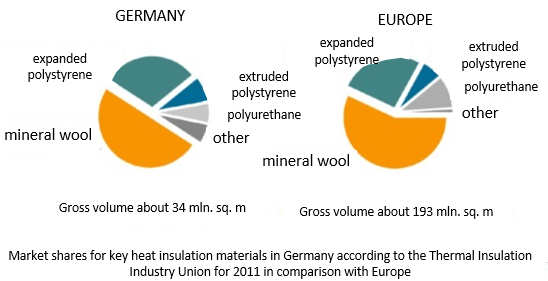 *according to German Heat Insulation Research Institute FIW
"Traditional" insulation materials are widely used both in Russia and abroad – however, they cannot be universally applied in all areas of use. Heavy, environmentally unfriendly materials that "chew away" valuable space are not suitable for weatherization of apartments or houses; and few of them are applicable in the cases of modernization, reconstruction or reorganization, which exclude the possibility of dismantling, or when hard-to-reach, complex surfaces need to be insulated.
The unique character of AKTERM® is in the fact that this thin high-strength liquid insulation coating can be used in conjunction with "traditional" heat insulation materials to supplement the end result with the properties that cannot be provided by "traditional" heat insulation materials. AKTERM® is the "second skin" of a surface, that allows the use of any supplementary insulation, decoration or finish coatings.
Various product types of AKTERM® insulation materials can be applied to pipelines, facades and metal structures before using "traditional" materials to provide:
vapor proofing
resistance to ultraviolet radiation
protection against fungus, mold and moisture
protection against corrosion
Innovative Solutions of the Future Available Today
The requirements of today's market to insulation materials, and particularly to heat insulation materials, primarily concern their efficiency and affordability. An effective heat insulation material must possess not only energy and heat preservation properties, but also a number of other useful properties
An ideal insulation material should be thin, multifunctional, effective and come at an affordable price. Besides, the insulation material should be easy to use and apply, come in a convenient packaging, have a high quality, be environmentally safe and not cause damage to structures and surfaces it is applied to.
When traditional insulation materials do not work, it is advisable to use AKTERM® liquid insulation materials either to supplement traditional insulation methods or to substitute them. AKTERM® is alternative, high quality insulation for various areas of use and surfaces.
AKTERM® liquid insulation materials have excellent capabilities and a large potential.
Innovative Formula of AKTERM® Thermal Insulation Coatings
The AKTERM™ high-strength extra-fine coating formula consists of three parts: the base, the microspheres and the reinforcing agent.

Inherently the base of the product is waterborne paint, but the base can also be organic or organosilicon.
The formula also includes vacuum microspheres of several varieties: these are small glass or ceramic hollow spheres with special properties. The determination of the quality and quantity of these microspheres by the manufacturer influences the quality of the end product substantially. This is why the quality of the raw materials used is of a significant importance. AKTERM® purchases raw materials from the leading manufacturers.
Ceramic microspheres are high-strength small spheres with high internal solidity. The ceramic microspheres help to optimize the production expenses and the product cost, as well as to increase the share of enduring substances and materials in the contents of the product and to improve its technical properties.
Contrary to many other additives, due to their form ceramic microspheres have very low viscosity and better flow properties, thus making it easier to apply AKTERM™ products by spraying.
The extremely strong ceramic microspheres allow for the creation of a smooth, wear-resistant AKTERM™ coating surface. Smooth insulated surfaces retain their optical and technical properties for longer than rough surfaces. Because of ceramic microspheres bridges and other metal structures develop a film protecting them against damaging climate conditions. The ceramic microspheres also help to achieve a stronger and more ultraviolet-resistant surface.
The glass microspheres also possess high strength and a number of unique properties: low heat conductivity, high adhesion to metals, low density, high water-tightness. Due to their physical and mechanical properties the glass microspheres are used as a special filler in high-quality heat insulation materials.
The third component is special fillers and unique additives that give the product some of its special properties –protection against fungus, an antiseptic property, etc.
For your information: with a seeming resemblance of formulae and ingredients, external and manufacturer-defined technical features of the marketed products and even similar product names in the competitive environment, the innovativeness and the quality of the product are in the end defined by the professionalism of the manufacturer and pioneering laboratory developments.
The innovation of AKTERM® is in professional, pioneering developments that concern combining the three components the product formula consists of.
These developments led to the appearance of specific product types, that combine a variety of properties: for instance, AKTERM North™ is perfect for application in wintertime, and AKTERM Metal™ is indispensable for protective treatment of metal surfaces.
The practical goals of applying AKTERM™ high-strength insulation coating
Social and cultural goals:
providing comfortable living conditions
preservation of the residents' health
improving the quality of life
Environmental goals:
preservation of environmental balance
prevention of heat loss by buildings and structures
minimizing the amount of construction waste when applying the product
Separate properties and advantages of AKTERM™
anti-fungus coating — prevents the development of fungus mold and destroys the existing fungi
the "heat mirror" effect — AKTERM™ reflects heat insulation. In summertime it reflects up to 95% of sunlight outside the building, in winter it returns up to 70% of heat radiation to the inside of the building
an option of coating hard-to-reach areas and complex surfaces (pipe elbows, sphere-shaped vessels, etc.)
the shelf life of AKTERM™ coating is at least 15 years
an option of using AKTERM™ liquid heat insulation as finish facade coating (with possible tinting/color matching)
does not reduce the space of your room, the minimal layer thickness is several millimeters
the coating can be applied at any season, the application process is simple and fast
can be applied using a brush, a roller, a spatula or airless spray
adhesion of the coating to all materials
the material is environmentally friendly
The Advantages of Using AKTERM® Liquid Insulation in Various Areas
Insulation today is a significantly important measure to reduce energy expenditures and use energy resources of the buildings. Thus, insulation materials gain special importance for the customer.
Quality heat insulation and waterproofing warrant a comfortable microclimate and protect construction structures from harmful and sometimes destructive impact of the environment and weather.
Reorganization of Buildings – Modernization
Reorganization of residential buildings in order to reduce heat losses and preserve energy is very important. Usually the plan of actions regarding reconstruction and modernization of residential buildings includes weatherization of buildings and using highly effective energy saving insulation technologies in order to reduce energy consumption and provide comfortable living conditions for residents.
Heat insulation of building facades is one of the key points of action plans of various organizations involved in property reorganization in buildings under reconstruction. Besides, insulation of old pipes is frequently required, as well as heat insulation of interpanel joints and roof reconstruction – all that is complicated by short deadlines and impossibility of resettling the residents for the period of reorganization.
In Russia there is an important need in the reorganization of old residential buildings. The main purposes of old buildings reorganization are improving the living conditions, as well as reducing the expenses for heating, hot water supply and maintenance works.
Using AKTERM® liquid insulation materials for reorganization is economically advantageous, convenient and effective. Works concerning the use of AKTERM™ do not involve any noise, so conducting such works allows for quiet accommodation for tenants and avoidance of conflict situations when conducting the works. While doing construction works using liquid heat insulation the possibility of damage to the building is close to zero. Besides improvement of the thermo technical features, the building facade acquires a more eye-pleasing appearance, and the AKTERM™ coating allows for other finish materials to be applied over it.
High-Rise Buildings, Multi-Storeyed Buildings – New Construction
A significant part of energy resources goes to heating buildings. Because of substandard or badly insulated coatings and structures some of the heat is lost. The reduction of heat loss can be achieved via use of insulation materials. Applying AKTERM™ liquid insulation materials, including heat insulation, is a detailed and comprehensive solution for protection of metal structures and slabs; it is suitable for application to hard-to-reach, complex structure elements and does not make them heavier due to extra thin application layer and elasticity. AKTERM™ is effective for insulation of building junctions, ventilation systems and pipelines, window openings and jambs, walls and roofings.
AKTERM™ is indispensable when insulation of wooden structures and surfaces is required: the liquid insulation material fills the voids and prevents their formation in the future, it also levels the surface.
Insulation of rooftops and roofings using AKTERM® is effectively used for:
external insulation and weather resistance
airproof sealing of construction joints
weatherization of ballasted roofs
insulation of intermediate rafters and floors
internal weatherization of roofings
insulation of roof framing
insulation of base plates and foundations (including in conjunction with "traditional" insulation materials)
Insulation of Walls, Floors, Ceilings, Balconies
Heat insulation of the partition walls is necessary to prevent heat loss in winter and loss of coolness in summer, support comfortable indoor climate, protect the building from temperature gradient and excessive humidity resulting from "heat bridges" and condensation.
Heat insulation is also needed when not all rooms in a building are heated or there are special purpose spaces such as a basement, a warehouse or a garage that maintains specific temperature different from room temperature for the purposes of effective storage or warehousing.
Weatherization and insulation of walls using AKTERM® helps to solve the following tasks:
external insulation of walls for heat insulation and waterproofing
weatherization of wooden frames and decorative panel constructions
insulation of walls from the inside
insulation between partitions inside the building
insulation of partition walls (including for the purpose of additional noise proofing)
AKTERM® for Protection Against Water Level Rising or Floods
Walls of basements, partitions, facades and outside walls which can be damaged as a result of water level rising or flooding require reliable insulation. Most of construction and insulation materials have porous structure; some of them have the so-called "minute holes", which make for free water movement. The more porous the material is, the more water it is able to absorb.
Fungus and mold need nutritional medium for their reproduction and growth, this medium being excessively moist, damp and having suitable temperature. Besides, a lot of materials on construction parts of buildings, such as wallpaper or dust, also improve the nutritional medium for fungi. AKTERM® will help to level the temperature in the building and provide waterproofing in order to prevent the formation of fungi and moss.
Transportation vehicles, both land and water ones, are subject to negative impact of the environment and require reliable heat insulation to retain their operational capabilities. Besides, proper heat insulation is necessary to perform quality cargo transportation without damaging the cargo.
Effective insulation of transportation vehicles using AKTERM™ is used for railway vehicles, military equipment, light motor vehicles and cargo trucks, shipping containers.
Pipelines, both commercial-grade and residential-grade, require special treatment to increase their technological functionality: for instance, for protection against overheating or freezing. AKTERM® offers insulation solutions for insulation of water and heat supply pipelines (hot and cold water), as well as steam pipelines.
Facades of buildings and structures are subject to negative impact of direct sunlight, wind, low temperatures and precipitation. Reliable heat insulation of facades (of residential buildings, industrial facilities, warehouses, etc.) allows for sufficient reduction of expenses for heating in winter and air conditioning in summer.
AKTERM® offers advanced and reliable heat insulation of vessels, reservoirs and storage tanks for your business enterprise. Reservoirs and storage tanks are widely used for storage and transportation of various substances. Common for all reservoirs is the need in reliable heat insulation to provide their technological functionality, reduce heat losses, guarantee contact protection and preserve the transported substance.
[uptolike]