[uptolike]
AKTERM is a synonym to innovation and leadership in the market of thermal insulating materials. We produce warmth to care about the future. For 6 years of dynamic work AKTERM, being the pioneer in the development and production of liquid thermal insulating materials, has earned its reputation of the leading manufacturer of multifunctional heat and thermal insulating coatings in the markets of Russia and the former Soviet Union countries. The innovative production formulae developed by the company have no complete parallels in Russia or Europe. The AKTERM liquid thermal insulation is in high demand in both private and industrial sectors in small, medium and large businesses.
The leading position of AKTERM is based on the practical requirements of the market, frequently introduced innovations and high quality services. The products that we develop and manufacture are basically advanced insulation solutions designed for protection against condensed water and corrosion, as well as water and fire protection, heat retention and thermal insulation.
Product Certification
AKTERM's production premises are located in Moscow Oblast. The production is certified according to ISO 9001 and ISO 14001 standards, which allows us to guarantee the quality and safety of our product, its environmental compatibility, its compliance to the norms of production.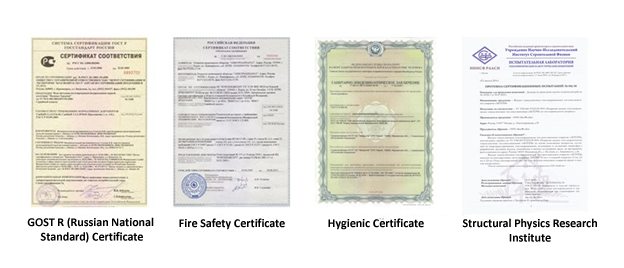 AKTERM has its own testing laboratory, complete with state-of-the-art equipment, which is used for elaborate tests and detailed inspections of raw materials and end product. In our production we use raw materials from leading global manufacturers such as ROHM&HAAS, 3M, BASF, AKZO NOBEL, DUPONT, UNION CARBIDE, BYK-CHEMIE.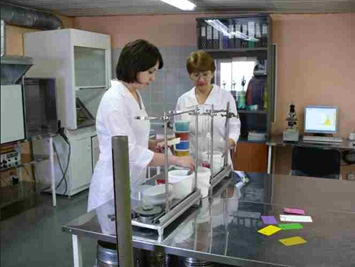 AKTERM® Laboratory
Our company professionals regularly take advanced professional training courses in leading research institutes of Moscow. We perform continuous monitoring of the thermal insulation coatings market, study both Russian and European innovations, follow the actual standard regulation requirements for this type of products and commit to these requirements. Modification formulae are continuously improved by our specialists on the basis of the practical experience of their use and according to the current trends of the consumer market.
Cooperation Geography
Today AKTERM is a reliable manufacturer and supplier of liquid insulating coatings for private consumers as well as for enterprises working in all industries with no exceptions, including oil and gas, power, motor vehicles, construction, railroad industries, agricultural industry, as well as housing and public utility sector. AKTERM's unique product formulae and substantial production facilities help us to satisfy the demands of customers in Russia, former Soviet Union, countries of Europe and Asia. We ship our products to any part of the world using any type of transportation convenient for the customer: by railway, by air or by road. AKTERM storage facilities have a 20 000 liters monthly stock of finished products.
AKTERM® …more than just paint
A lot of terms and expressions today are used synonymously to "liquid thermal insulation": thermal paint, heat paint, liquid thermal coating, liquid heat insulation, extra thin insulation, thin film coating, thermal insulant, etc.
AKTERM® coatings are unique because the thin extra strong liquid coating can be used together with "traditional" thermal insulation materials to supplement the end result with the features that cannot be provided by these "traditional" materials. AKTERM® becomes the "second skin" of the surface it is applied to, allowing for using any additional insulation, decoration or top coatings.
When traditional insulation materials don't work it is advisable to try AKTERM® liquid insulation materials to either supplement the traditional insulation or substitute it with them. AKTERM® is a high quality alternative means of insulation designed for a variety of uses and surfaces.
The innovation of AKTERM® is in the professional, unique development of combining its three main ingredients.
Practical goals of using AKTERM™ extra strong insulation coatings
thermal insulation
water protection
heat retention
protection against condensed water and corrosion
fire protection
Social and cultural goals:
providing comfortable housing conditions
health preservation
improvement of life quality

Environmental goals:
preservation of environmental balance
prevention of warmth loss in buildings
minimizing construction waste when applying the product
[uptolike]