[uptolike]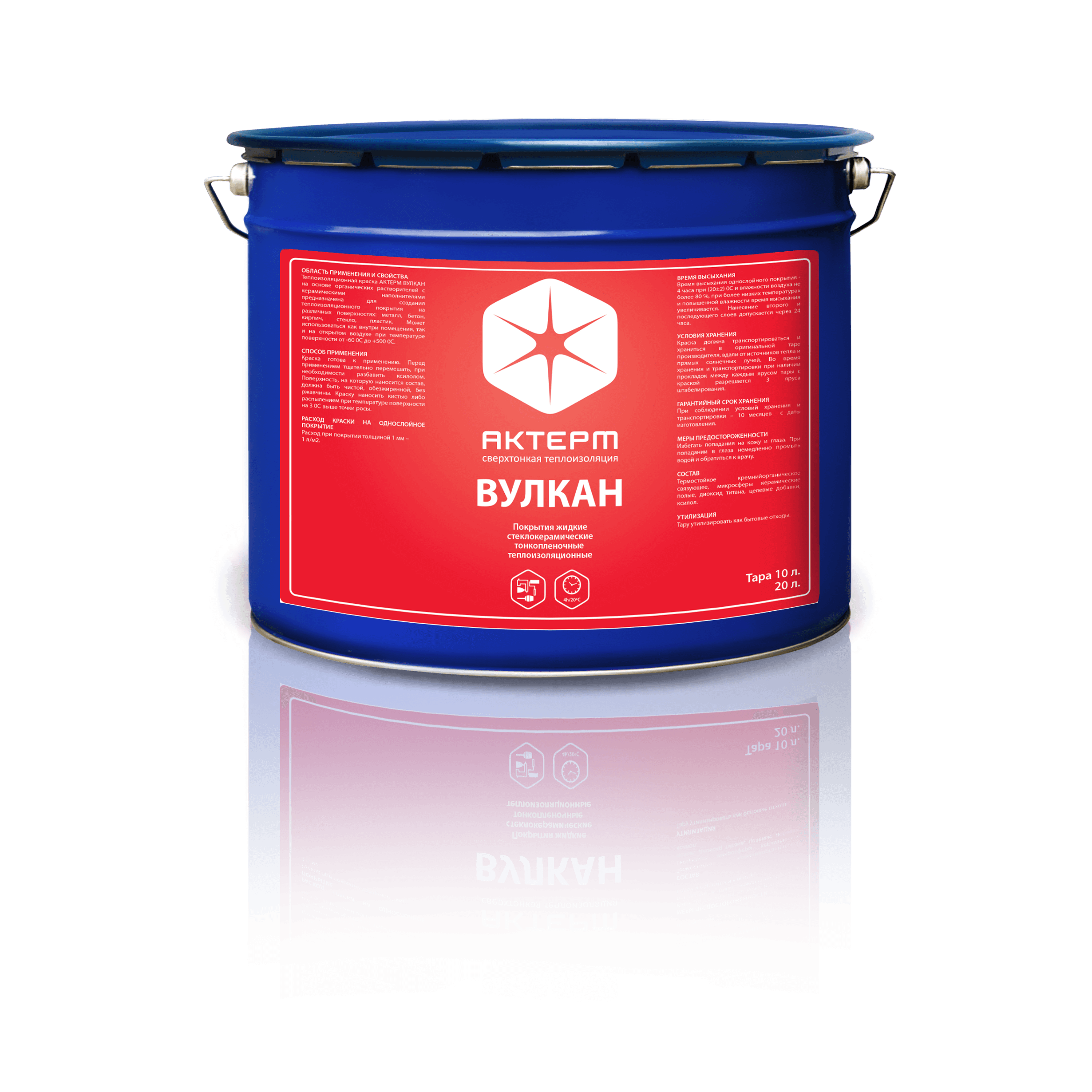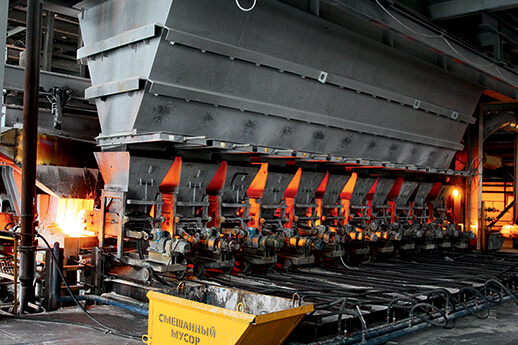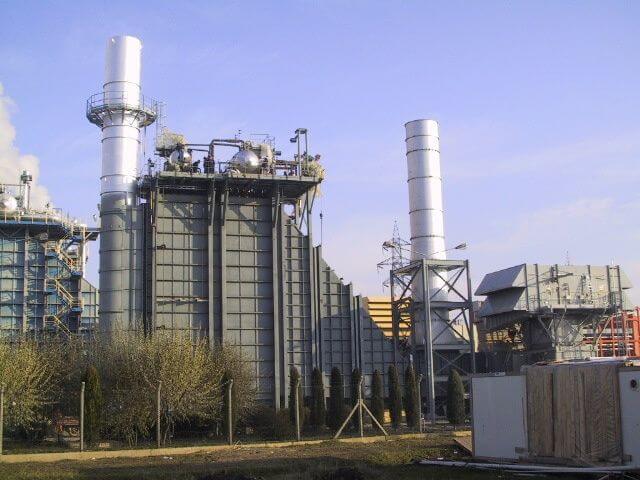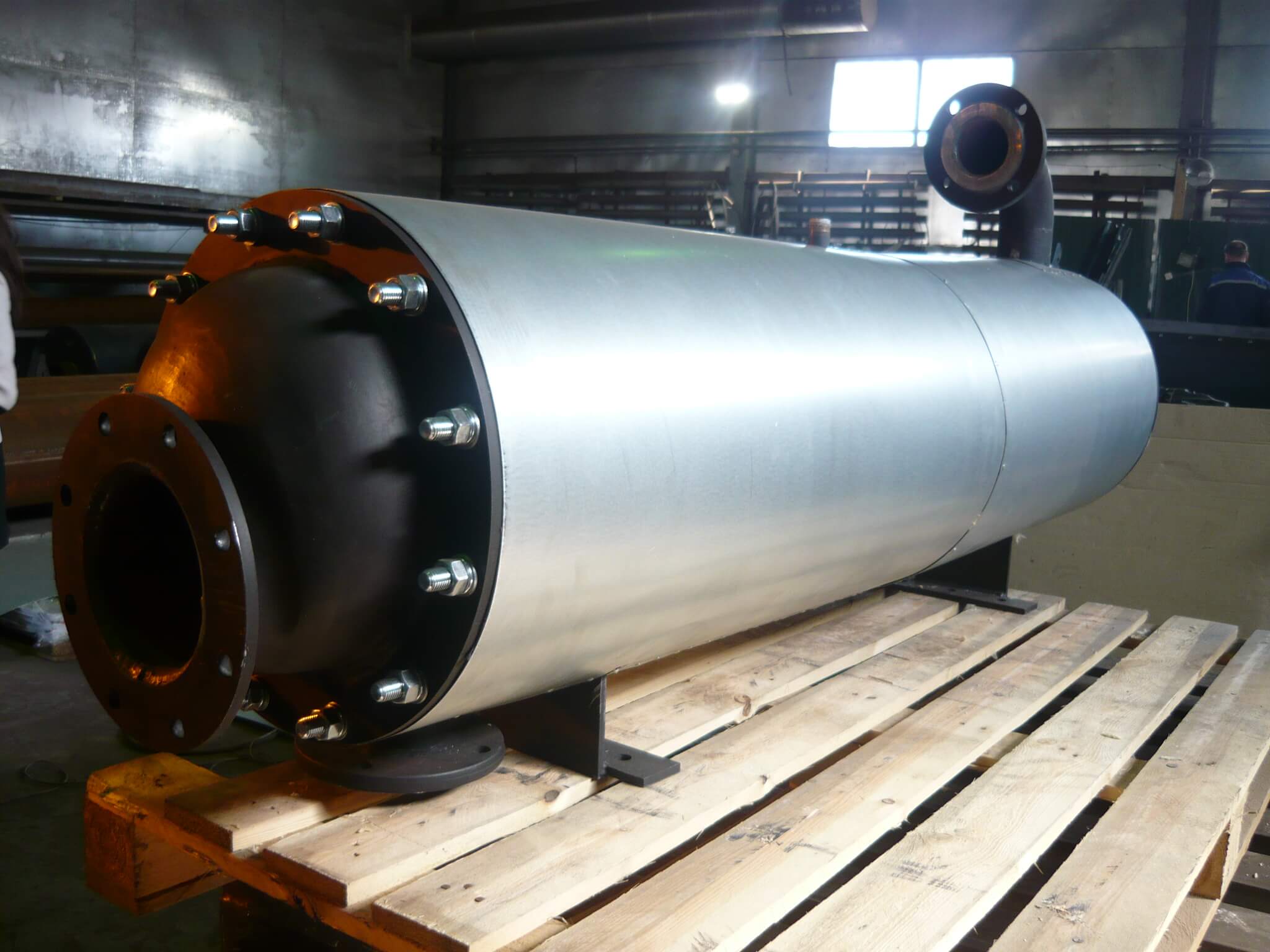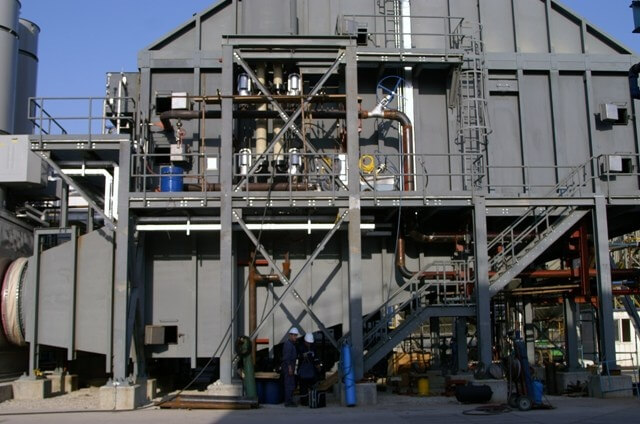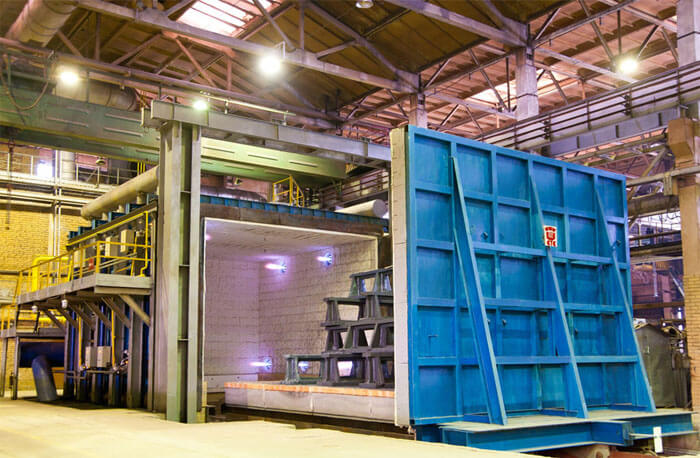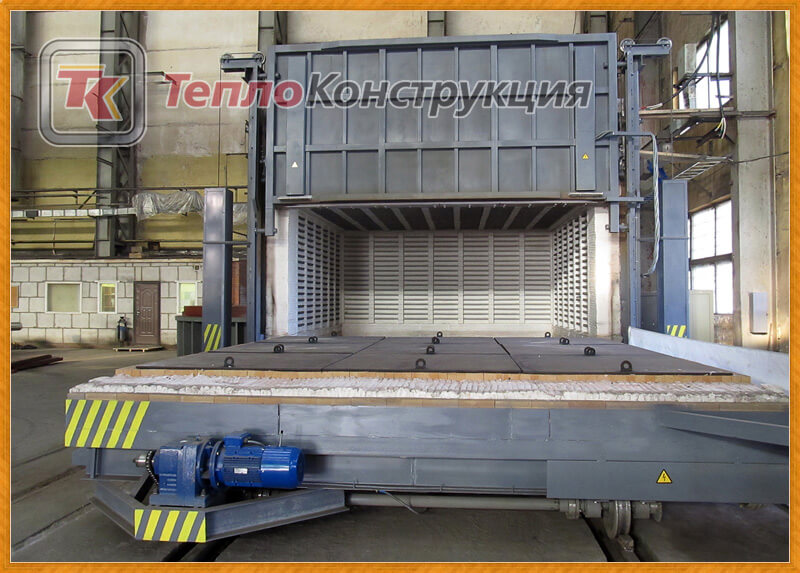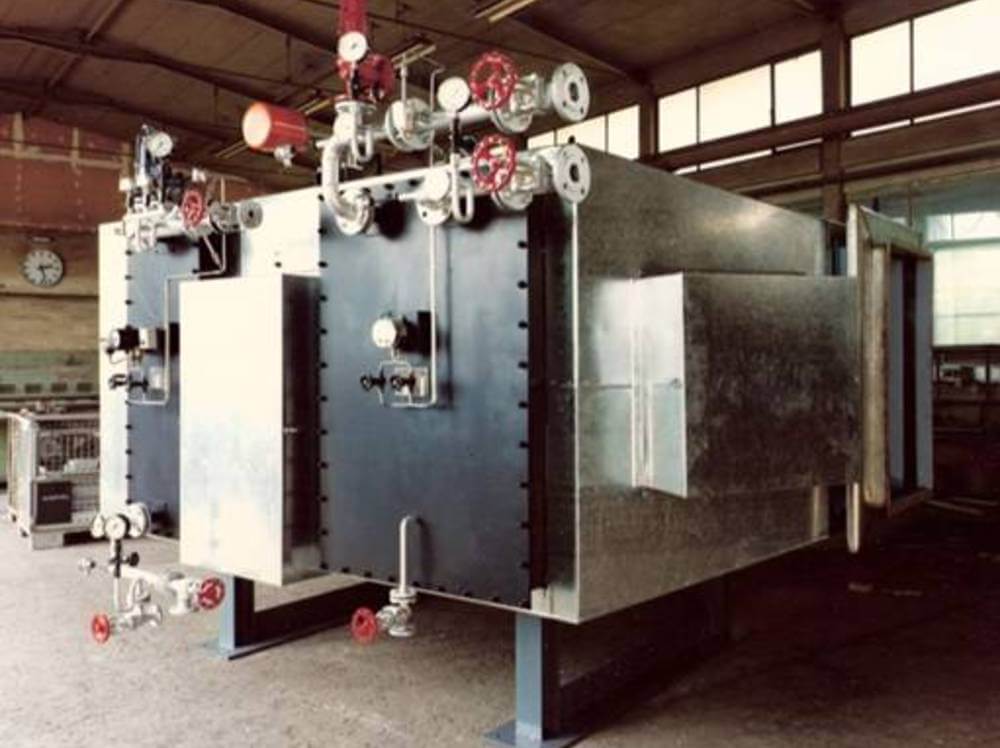 AKTERM Volcano™ is a high-temperature liquid organic silicon-based heat insulation material designed for metal and brick surfaces. Protects against burns upon contact with hot surfaces.
insulation of residential-grade and commercial-grade heat pipes
heat insulation of industrial product pipelines
thermal insulation of metal chimney stacks
insulation of metal parts of engines
thermal protection of hulls and mechanisms of sea vessels
heat insulation of roofs and metal structures
thermal insulation of other surfaces and objects that are exposed to temperatures from -60 to +450° С during their assembly or use and to the impact of various corrosive factors: mineral oils, petroleum products, salts
AKTERM Volcano™ is applied with a 1 mm thick layer at the outside temperature from -35С° to +35°С to a surface with the temperature from -35°С to +35°С. Once the thermal insulation layer is completely dry, the surface can be used within the temperature range from -60°С to +450°С. Peak temperature +600°С.
The flow rate of AKTERM Volcano™ liquid heat insulation is 1.2 liters per 1 m² of the surface with the layer thickness of 1 mm.
Solvents: orthoxylene, xylol, solvent-646. The choice of the solvent has to be approved by the AKTERM Volcano™ manufacturer.
Product transportation conditions: at the temperature from -35°С to +40°С.
Packaging: 10 or 20 liters metal bucket.
Customer pick-up: free of charge from the company warehouse.
Cost of delivery: from 300 rubles up, depending on the volume of the order.
Technology of applying AKTERM Volcano™ liquid insulation material to surfaces
Preparation of the Surface
The insulated surface must be dry and cleared from dust, dirt and fat. It is not allowed to apply AKTERM Volcano ™ to previously painted surfaces.
Preparation of the Liquid Thermal Insulation Coating
Before using AKTERM Volcano™ it is necessary to stir it manually or using a mixer (electric drill with a special nozzle) at a speed no more than 200 rotations per minute. If it is necessary to bring it to working viscosity mix it with water.
The surface must be dry and defatted, the outside temperature when applying must be in the range between -35°С and +35°С.
Applying the Ready Substance to a Surface
If the area of the surface in question is not too large, an ordinary paint brush or a sponge roller can be used.
The application of liquid heat insulation is performed using a special airless spraying installation designed specifically to work with such type of materials. Such installations come in three models: electrically operated, gasoline-powered and air-powered. To apply a layer of heat paint it is necessary to use a muzzle made of a hard-alloy material, because ordinary muzzles tend to get out of order soon.
The intermediate drying of every layer should last for at least 2 hours. Concrete, asbestos-cement, plastered and cement-sand surfaces are recommended to be covered with 3 layers. Metal surfaces are recommended to be covered with 2-3 layers crosswise with intermediate drying of every layer to "aftertack" – from 30 to 120 minutes depending on the outside temperature.
The drying of the surfaces happens naturally at the temperature of 20± 2°С no longer than 2 hours, when in operation, complete solidification occurs upon heating.
The thickness of the dried coating on the surface is measured using the thermotechnical calculation method.
AKTERM Volcano™:
funnel viscosity at the temperature of +20°С according to the VZ-246 viscometer with the nozzle diameter of 4 mm at the temperature of (20± 2)°С – min 25 sec
non-volatile matter content – min 75%
dilution rate of the coating to working viscosity of 15 sec according to the VZ-246 viscometer with the nozzle diameter of 4.0 mm at the temperature of (20± 2)°С – min 50-80%
breaking strength of the coating on impact according to the U-2 device – min 40 cm
adhesion of the coating according to the cross hatch test – max 1 point
thermal stability of AKTERM Volcano™ at the temperature up to +450°С – min 3 hours
resistance of the coating film to salt spray – min 96 hours
water resistance of the coating – min 150 hours
resistance of the coating film at the temperature of +20± 2° С to the static effect of:
water — min 100 hours
gasoline — min 48 hours
mineral oil — min 48 hours
No 

Indicator

The Norm According to Technical Specifications

1.

External appearance of the film
Once dry the film must be homogeneous and free of foreign matter,

2.

The color of the film
Should be within the possible variation set by reference samples

3.

Funnel viscosity according to VZ-246 viscometer with the nozzle diameter of 4.0 mm at the temperature of (20±2)°С, sec, minimum

25

4.

Time of drying to the degree of 3, hours, maximum

at the temperature of (20±2)°С

at the temperature of (150±2)°С

2

0.5

5.

Non-volatile matter content, %

70±5

6.

Thermal resistance of the film at the temperature of (600±5)°С, hours, minimum

3

7.

Diltuion rate to the working viscosity of 15 according to VZ-246 viscometer with the nozzle diameter of 4.0 mm at the temperature of (20±2)°С, %

30 — 80

8.

Film hardness according to the M-3 pendulum apparatus, arbitrary units, minimum

0.4

9.

Film hardness  upon impact according to the U-1 device, cm, minimum

40

10.

Resistance of the film to salt spray, hours, minimum

96

11.

Adhesion of the film, points, maximum

1

12.

Resistance of the film at the temperature of(20±2)°С, hours, minimum, to the proportional action of:

water

gasoline

mineral oil

100

48

48
[uptolike]